Impressum
The author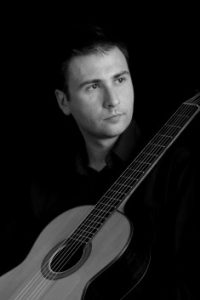 Milan Dereta, guitarist and composer, completed his high school education in the music school "Vatroslav Lisinski", theoretical and instrumental department, in the class of prof. Aleksandar Hadži-Đorđević in 2004. Several years later he completed his Master's studies (2009) and specialist academic artistic studies (2011) at the Faculty of Musical Arts in Belgrade, in the class of prof. Srđan Tošić.
During his studies he participated in numerous national and international competitions, as a soloist and as a member of chamber ensembles (first prize at the Republic competition in 2002). He performed in numerous places in Belgrade and Serbia, with the performances being recorded innumerable times for both TV and Radio.
A successful cooperation was established with four ensembles during the past seven years. The music he plays is traditional Argentinian (tango and milonga), Portuguese (fado), Russian (Russian romance) as well as Spanish ambient music (Six Strings and a Piece of Wood). Also, Milan is a member of a theatre orchestra at the chamber opera in Madlenianum in Belgrade where he's been performing in musicals Les Miserables and Rebecca playing the classical and electric guitar.
He composes and arranges music and has written numerous works for guitar and chamber ensembles in classical and film genre as well as music for two feature-documentary films (Alexander Soloviev and Vladimir Dvorniković) from the series "Forgotten Serbian intellectuals" that were broadcast on RTS in 2006.
His students are winners of a multitude of rewards, including the following few which stand out:
Laureate of the Republic Competition 2016 for soloists in the third category;
I prize at the Republican competition 2016 guitar duo;
I prize at the Republican competition 2017 trio guitar;
I prize at the festival in 2017 Gitarart trio guitar;
I prize UMBPS guitar trio in 2017;
First prize in the competition S. Binički 2017 guitar trio.
In November 2015 he founded the guitar school Artino in cooperation with two colleague guitarists. He also published the first edition multimedia textbook "Artino – beginners guide" in 2016.
The multimedia web-application Artino was put into operation in 2017 and it is conceived as an upgrade of the existing textbook and as a foundation of a new form of education in the field of music.
He works as a professor in the music school "Vatroslav Lisinski".